Make the move from Manual Planning to Capacity Planning
as a Service
Take your airport Capacity Planning to a new level with AMORPH.aero planX
For airport and terminal operators who want to minimize costs and disruptions due to uncertain demand by proactively planning and preparing for various scenarios Amorph's planX Capacity Planning solution provides an easy to use, cost effective solution that is immediately available.
Who is it for?
Airport Planners
Airport Operations Managers
Security Staff Planners
Border Police (Staff planners)
Ground handlers (Check-In agent planners)
Airlines (Gate crews and service staff planners)
What is it for?
Quick and easy airport capacity planning
Check-point peak analysis
Check-point flow analysis
Queue time evaluation
Resource planning
100% risk-free. Guaranteed.
Access anywhere and anytime using an internet connection.
Subscribe online and immediately start analyzing capacity planning scenarios.
On any device available, no installation required
No CapEx costs – runs without any required implementation
Start with 3 simple steps:
1.
Create a scenario by selecting the "Create first scenario" button and select a template.
2.
Name your Scenario and edit the template with your desired Check Point parameters for:
1. Target: Area per person, Maximum Waiting Time and Queue Area
2. Process: Maximum number of available lanes and the Processing rate per lane
3. Show up profile: Normal, Instant, Uniform or Custom
3.
Run the Scenario by selecting the "Calculate" button.
Efficiency
Evaluate the scenario results.
Check the KPIs at the top of the dashboard:
total number of passengers
maximum passenger inflow
maximum number of available lanes
maximum waiting time
maximum queue size.
Review the charts in the dashboard:
resource demand based on passenger inflow,
resource allocation: available lanes, missing lanes and the ideal allocation
predicted allocation with 15m, 30m and 1h time intervals
queue size and waiting time with 15m, 30m and 1h time intervals
waiting time and total waiting time with 15m, 30m and 1h time intervals
queue area demand based on passenger distancing
Effectiveness
Review multiple potential scenarios.
Make an informed decision on allocation of resources, management of passenger flows and cost implications.
With planX you can:
Relieve stress for staff and passengers with informed capacity and level of service planning
Quickly obtain informed answers to what-if questions and be better prepared
As air travel has started to recover, airports are facing new challenges with resource planning, due to uncertain and fluctuating demand as well as reduced availability of staff and passenger processing resources. Added to that are requirements for social distancing and potentially additional processing points e.g.: for health checks.
A likely outcome is that service quality is impacted due to insufficient capacity and customer satisfaction deteriorates. Disruptions have a ripple effect, causing stress and affecting staff morale.
Existing alternatives to do manual planning and use spreadsheets with limited capability, are less effective under normal circumstances and even more so now due to the volatility of the situation. Much can be gained from structured and proactive scenario analysis and being well prepared for various possibilities.
100% risk-free. Guaranteed.
The Airport Capacity Planning challenge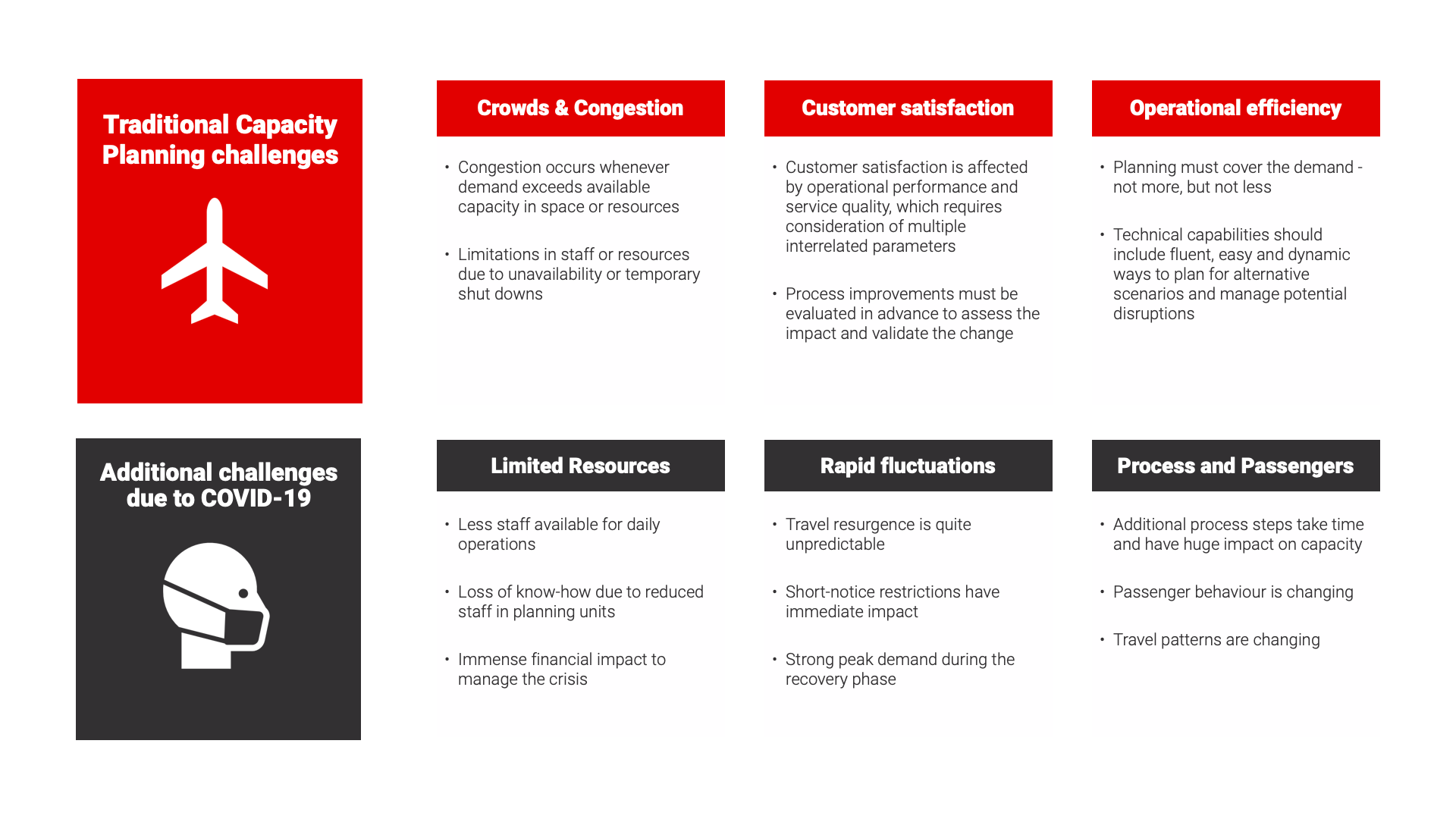 Amorph.aero planX provides a solution!
Easy to use web application with simple inputs for defining resources, targets, capacity constraints and behavior profiles
Multiple templates for analysis of different process points
Easy input of various demand scenarios
Enables advanced assessment of multiple scenarios and proactive planning to avoid over- or under-allocation of resources
Find a way to avoid queues to reduce passenger discomfort /anxiety
Enable Level of Service planning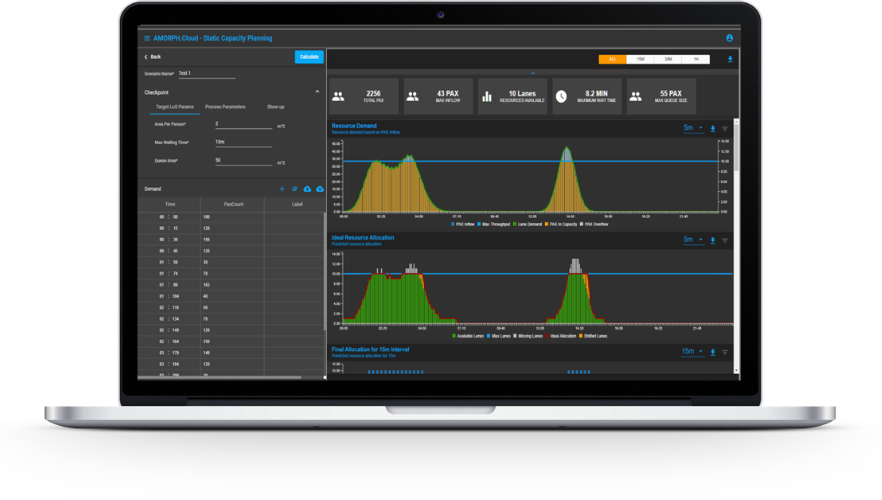 Runs in Microsoft Azure, accessible via the Microsoft Market Place

Web-based Cloud Application

KPI´s and Thresholds to identify bottlenecks

Import / Export functionality
The basic solution can be upgraded to enable:
Long-term planning
Simulation based Flow Analytics
End-to-end resource planning
100% risk-free. Guaranteed.
Affordable for small and mid-sized airports
Intuitive user interface requires no training
Deployed in the cloud and accessible from anywhere
Immediately available to end users without intervention
Option for automatic recognition and uploading of schedule data
Deployment and subscription

Subscribe and Go!
Runs on Microsoft Azure.
Integrated with Office 365.
Get started immediately!
After successful subscription start watching the training video and you can directly start building your first scenario.
Try before you buy!
Software-as-a-Service (SaaS) with a monthly subscription and no upfront investment.
AMORPH.aero planX is ideal for small- and mid-size airports that have budget constraints.
100% risk-free. Guaranteed.
Join AMORPH.aero and grow your business.