Once with the start of the Passenger Terminal Expo, we are extremely happy to announce that Amorph Systems and Rheinberry started their co-operative working agreement to provide airports, OEMs, and other suppliers offering open architecture data connectivity, aggregation, and reporting products, coupled with associated professional services.
While the concept of open architecture is widely established in many industries; there are many opportunities for this approach to be deployed in the commercial aviation and airport sector, for instance, in airport security systems, hold baggage systems, and other areas where data, workflow, and industrial controls interface with the traditional IT environment. Together Amorph Systems and Rheinberry can provide you with innovative technical solutions and thought leadership to tackle the problems in this exciting arena.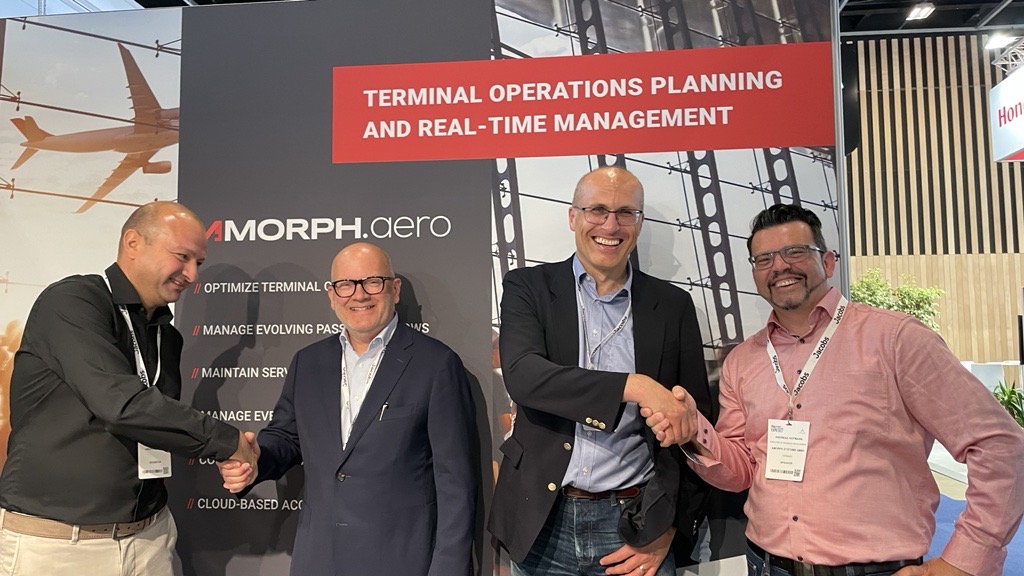 Amorph Systems
Amorph Systems offers leading products and services for prediction, planning, integration, and control. Airports around the world benefit from IT solutions provided by Amorph Systems.
AMORPH.aero cloud is a powerful platform with various modules for planning and managing flights and passengers, including automatic event & workflow management, real-time map visualization, passenger predictions, simulation, and asset monitoring. Based on serverless Azure cloud technology, it is securely accessible from everywhere.
Data accessibility at all levels is essential for monitoring equipment and processes to ensure continuity of operations and quality of service.
The Airport Internet of Things (IoT) is a subset of Industrial IOT commonly known as IIOT. So just as many industrial organizations are creating digital twins of their equipment and infrastructure to enable improved operations, too can airports exploit their infrastructure data. The challenge is that connection to equipment like elevators, escalators, conveyors, sortation systems, and boarding bridges, can be difficult with complex interfaces and low-level protocols. Amorph Systems can help airports with all these challenges.
Amorph SMARTUNIFIER is a connectivity platform that enables rapid development and deployment of structured, reusable interfaces providing access to key data sources by applications for the optimization of airport operations.
A connectivity solution that enables fast, easy and scalable integration of systems and infrastructure supports the movement towards the digitalization of airport processes.
With support for a variety of industrial communication protocols and formats out of the box, it is easy to connect these devices to any kind of on-premises or cloud-based target IT System, such as Asset Monitoring, Condition Monitoring and Maintenance Management, Energy Management, Asset Management, Operational Technology Service Management (OTSM), Capacity Planning and Management, Environmental Monitoring and Management, etc.
In the current rebooting phase, airports need innovative, flexible, and cost-effective solutions to cope with new challenges. Applications must be accessible, fast, and easy to implement to support a more virtual, digital, and efficient way of working.
Rheinberry
Rheinberry is a unique U.K.-based consultancy comprising a wide network of multi-discipline experts and professionals. Rheinberry is not a staffing company – they are experienced, professional problem solvers.
And while their core focus is on Air-travel Security, the team has and can assist across multiple sectors and disciplines – bringing clarity to problems and helping you drive the right solutions that deliver the necessary benefits.
Rheinberry's recent air sector engagements include – delivering projects for UK and European airports involving Checked Baggage, Carry-on Baggage, Passenger Security, Rail Infrastructure, Network Capacity/Storage, and Strategic Sourcing. Rheinberry is an active ACI World Business Partner (Gold) and member of the British Aviation Group.
They have been working closely alongside industry leaders as a member of ACI Europe to create, propose and formalize security data standards, concepts, and governance of Open Architecture since 2019. Rheinberry's Managing Director, Richard Dempers is a co-author of ACI EUROPE's Open Architecture for Airport Security Systems: https://www.aci-europe.org/downloads/resources/Open%20Architecture%20for%20Airport%20Security%20Systems_1st%20Edition.pdf