A quick step on the Digital Transformation journey
Airports are affected by many factors that present challenges for the planning and management of operations. The past two years have been particularly challenging, and this has highlighted the need for tools that enable operations managers to respond effectively to continuously fluctuating demand and processing requirements. As a result, manual methods are becoming less and less effective and place increasing pressure on staff. The pandemic has impacted all industries, and this is driving the demand for digital transformation. Our customers are expressing the desire to digitalize more of their operations, and industry analysts emphasize the urgency to adopt and accelerate digitalization.
At Amorph Systems, we also understand the financial pressure on airports and the need to transform in a financially viable way. In response, we have drawn on our experience and adapted our algorithms for intelligent capacity planning to provide an accelerated and affordable solution.
For airport and terminal operators who want to minimize costs and disruptions due to uncertain demand by proactively planning and preparing for various scenarios, Amorph's planX Capacity Planning solution provides an easy to use, cost-effective solution that is immediately available.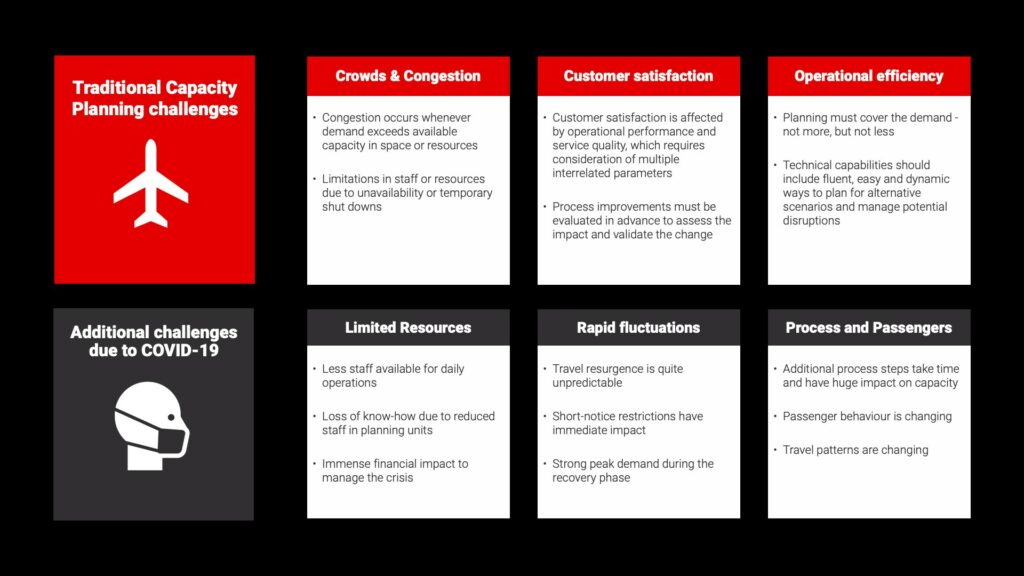 So how does planX exactly help airport planners?
Easy to start (simply click on the free trial button)
Directly accessible (No installation required)
No upfront costs
Quick-start with a "How-to" user guide
Intuitive scenario creation (templates to choose from)
Powerful Engine (You can't see, but we put our entire expertise under the cowling)
Immediate Results (No waiting time to get your insights)
Upgrade possibilities (For those who want more)
We are happy to present planX and assist you with any questions you might have.
Please try out our free trial version; no commitment or credit card is required.