The last months showed us how quickly life can change. An unseen threat brought all social life and entire businesses into lockdown and will probably continue to affect how we live and the way we deal business for the future months and even years to come.
We, at Amorph Systems, are experts in simulation and prediction and during the past weeks we entirely focused our attention on shaping our solutions in such a manner, so that we are able to help our customers prepare for a "new reality". The following 3 topics are important to be considered in the future:
Social Distancing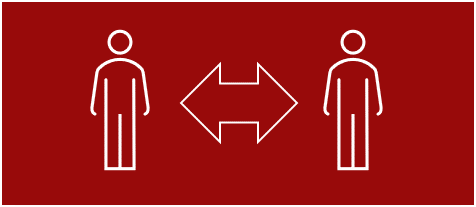 No doubt, social distancing is seen as one of the most effective measures against the spread of Sars-Cov-2. Through social distancing we can ensure safety also in larger public areas with a higher amount of people. Looking at airports, social distancing will be a challenge to realise. The major impact will be shrinked capacities of the grounds due to a lower amount of people allowed in the same place at the same time. Let´s look at the waiting area for a security check at an airport.If previously the area was designed for 300 passengers to queue, now there are only max. 100 passengers allowed with a required distance of 2 meters between them. When we think about all the potential crowded areas at an airport like: check-in/bag drop, border control or gate areas, the picture soon becomes pretty clear: for a long period of time airports won´t operate with the same volumes as before the Corona outbreak. In order not to run into space limitations even with only 30% of pre-Corona traffic, it is therefore essential to limit the peaks and apply good planning of the days and weeks ahead. We offer a suggestion at this point: As simulation experts we can help build models for social distancing at your airport in order to optimize the flows throughout your Terminal environment.
Health Checks
We believe that Health Checks will become a permanent measure for ensuring airport and passenger safety and confidence. One of these measures could be to execute thermal temperature checks. Even if a fever detection is not a guarantee in detecting all potentially infected passengers, it is a good indicator for taking action and performing further checks, in order to avoid airports getting the next backdoor in case of a further spread once they ramp up their business again. At this point it is worth mentioning that some airports have already implemented procedures for temperature screenings with manual devices. This shouldn´t be the way for a permanent handling of temperature checks. Why? It is very costly, it is a safety risk for staff and passengers, and it creates bottlenecks and disturbs the passenger flow. All these put together bring up the need for automated solutions. We, at Amorph System, have worked very hard during the last weeks, together with our partner Vantiq, to offer exactly this solution to the market: An Infection Detection and Containment System (IDCS).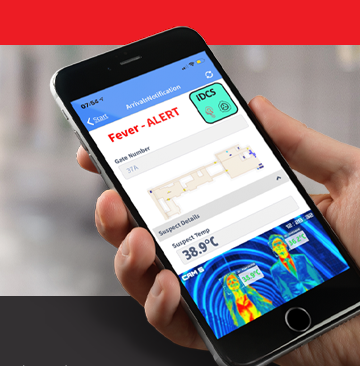 IDCS will help airports to follow-up on fever events in real-time and address the required services. It generates spread simulations to determine which areas and other passengers might be impacted to reduce potential risks as much as possible. The standard version can be deployed in a couple of weeks integrating the existing or future thermal monitoring devices.
Digitalisation
"Why is digitalisation as a topic listed here?" According to Gartner, Covid-19 is a major disruption that will drive digitalisation within enterprises like nothing else before. And this is not surprising. The outbreak of this pandemic has uncovered many shortcomings within society, not only in the health care systems, but also in the way how we are able to keep up business in a more digital environment. Lots of our users at airports were either sent home during the last weeks and had to work remotely, or as operations staff, worked in a very agile environment with lots of movement on the ground. This requires IT solutions which are easily accessible and mobile friendly; and most of the typical IT solutions at an airport like Airport Operational Databases (AODB) or Resource Management Solutions (RMS) are not accessible or friendly. Is it really a wonder that airports are looking for a way to speed up their digital transformation? No!
That´s why we created RUFUS. RUFUS is an easy solution for airports, which enables flight visualisation and passenger information as a Microsoft Azure cloud-based application. It is easy to install, easy to access and can run on every device. Give us a call and we have it installed for your airport in just 1 Day.