The New Norm for Future Airports
Passenger processing at airports is continually changing as operators adapt to evolving requirements and continue their efforts to restore passenger confidence. These changes present challenges with passenger flow and resource planning. How and when passenger volumes will increase and possibly decrease again in response to new government restrictions increases the challenge.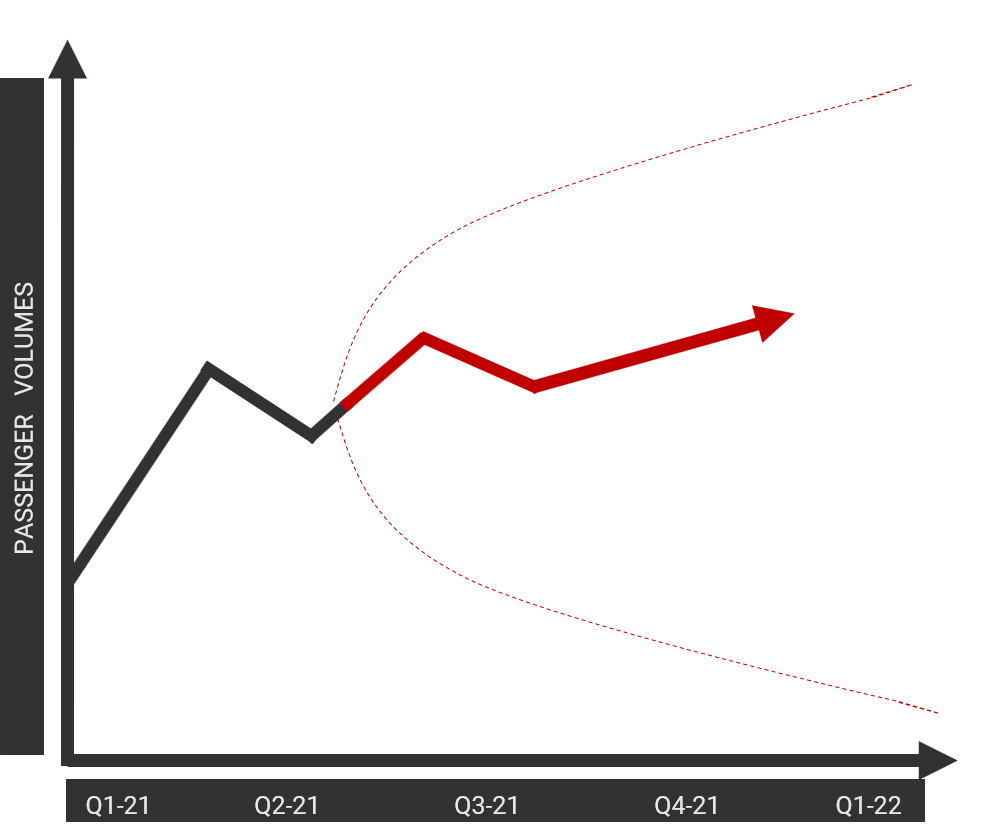 Airlines and governments are investigating ways, such as health passports, to validate passenger eligibility to travel. These new control measures may result in a diverse landscape of providers and processes. To effectively manage this will require agility and the support of good planning and management tools.
Specific challenges in upcoming months include:
Setting up and integrating new processes for passenger handling
Re-assessing capacity requirements based on process changes and physical distance limitations
Improving the availability of intelligence to manage more demand with less staff
Plan to Action for future airports
Passenger flow simulation provides a highly effective method for evaluating alternative scenarios, including different: resource availability, passenger routing, flight schedules, or passenger volumes. Preparation in advance based on potential scenarios will minimize disruptions, maintain service levels and avoid unplanned costs. Only with simulation is it possible to assess the overall impact of new testing and validation processes on overall passenger flow. In addition, simulation enables social distancing and the maximum occupancy of areas to be planned effectively. It is a reality that delays, cancellations, and other events cause deviations from planned operations. Continuous real-time simulation provides insight and allows informed adjustments to be made with visibility of the adjustment's predicted outcome.
Our solutions: Planning Studio, Flow Planner, and Flow Operations provide support throughout the stages of airport operations from scenario planning and capacity analysis, tactical staff and resource planning, through to daily decision support for flow optimization.
Process Automation
Automation will be a key driver for success to ensure flexibility and operational efficiency at future airports. Automated event and workflow management ensures well-defined, structured procedures can be triggered in response to different events, ranging from equipment failures, delayed arrival flights, exceeding service level thresholds to handling COVID-related events. Airports can share up-to-date operating procedures with all stakeholders to ensure consistent and appropriate responses. Automation of processes and workflows will play an essential role in enabling fast response times with limited resources.
Data Accessibility
Data accessibility at all levels is essential for monitoring equipment and processes to ensure continuity of operations and quality of service. An integration mechanism that enables rapid development and deployment of structured, reusable interfaces makes it possible to access essential data sources. Applications, such as those discussed above, can use this data to monitor the infrastructure and improve operational efficiency. Additional options such as environmental control, condition monitoring, and predictive maintenance also become possible. SMARTUNIFIER is a solution that enables fast, easy, and scalable device integration, making the digitalization of future airports possible.
Continuous change is a reality. We can enable the agility to respond effectively. Together, we will guide you through these challenging times.
If you would like to learn more about our products please reach out to us at info@amorphsys.com